WPsitehelpers Affiliate Program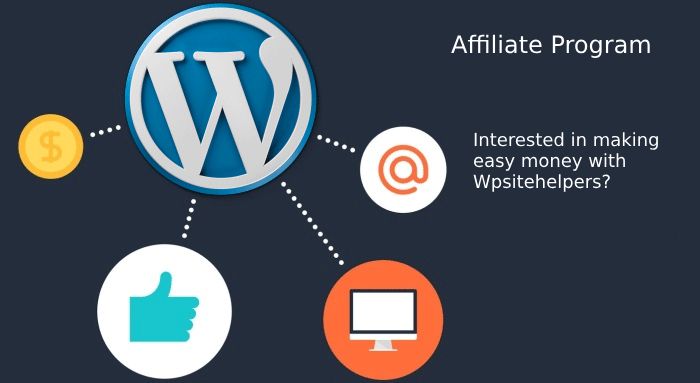 Interested in making easy money with WPsitehelpers selling our WordPress support services?
We will pay you a 20% commission on every sale you generate using your referral link ONGOING MONTHLY!
All you have to do is recommend WPsitehelpers to others that use WordPress using your affiliate link on your website, blog, Facebook, Twitter or other social networks. If you know any Webmasters, Developers or Design agencies who build WordPress sites they will LOVE THIS!
Why Promote WPsitehelpers?
WPsitehelpers (WPSH) is the most affordable service provider to give 24/7 WordPress support and other services like Real Time Cloud Backups, 24/7 Security Monitoring & Hack Cleanups, SEO advice, Monthly Reporting, Site Migrations, Plugin and Theme Installs, Small Jobs per day (varies according to plan),  optimizing page/site loading speed and more!
WPSH is fast (most tasks finished same day or worse case next) and offers the best WordPress help and support with many free proactive services included in every plan.
The best part for you is 20% commission on every sale RECURRING EVERY MONTH in every package you can sell using your referral link.
The below chart gives some example estimated earnings you can make by selling our services:
Plans
Your Commission
Sign Ups
Earn/Mo.
$29 Blogger
$5.80
40
$232.00
$39 Small
Business
$7.80
30
$234.00
$99 Growing
Entrepreneur
$19.80
20
$396.00
$149 BUSINESS
$29.80
15
$447.00
$299 AGENCY
$59.80
10
$598.00
Total Earning
$1907.00
Ready to make easy money selling WordPress services?
All you have to do is to join our affiliate program and encourage others to use our service by signing up with your affiliate link!
Affiliate Terms Of Services
You need a Paypal account to get paid.
The minimum amount you have to reach is $50 to get paid, if not the amount earned will be carry over to the next month.
We will send your commissions monthly if you have earned at least $50.
You can advertise our services using PPC by using your affiliate link to direct users to our site and refer them.
The following action may lead to the termination of your Affiliate account:
Inappropriate advertisements (false claims, misleading hyperlinks, etc.).
Spamming (mass email, mass newsgroup posting, etc.).
Advertising on sites containing or promoting illegal activities.
Violation of intellectual property rights. WPsitehelpers reserves the right to require license agreements from those who employ trademarks of WPsitehelpers in order to protect our intellectual property rights.
Offering rebates, coupons, or another form of promised kick-backs from your affiliate commission as an incentive. Adding bonuses or bundling other products with WPsitehelpers, however, is acceptable.
Self-referrals, fraudulent transactions, suspected Affiliate fraud.
In addition to the foregoing, WPsitehelpers reserves the right to terminate any Affiliate account anytime, for any violations of this agreement at our discretion.
*We do offer our affiliates discounts to use our services as well as other custom work like design, development and SEO. You also have access to our parent company, ROI4My.com (https://roi4my.com)
Got a question?
Testimonials
I was skeptical about the advertised service and turn-around time, but WPSiteHelpers really did what they said they would do. They contacted me right away and did not waste any time working on the problem. Thank you! My site is back up & running.
Great job and great communication! Thank you so much!!
These guys are great! I highly recommend them for WordPress services.
Consistent, professional, and positive attitude towards getting it right every time! Thank You!
Your service is fast and professional!!!
You guys are miracle workers. You were very patient and very thorough. You also treated my humble little blog like it was your own and as important as the big blogs.
Very helpful for all WordPress related problems, and polite. I recommend the VIP plan. Great team of professionals!
I recommend these guys without hesitation – if you're struggling with getting WordPress tasks done so you can focus on other aspects of your business, WPSiteHelpers is a fantastic solution …

Getting help and getting things done is a breeze – simply fill out an online help ticket and your task is completed within 24 hours, often much quicker, and detailed notes are provided so you know exactly what's been done and how it was done.

It is such a relief to have found them – technical worries don't get in the way any more and I can focus on my business and all the things I do best …

Our once almost totally inactive gardening related site is now showing signs of productivity and bringing in a small trickle of income thanks to the efforts of WPSiteHelpers – these guys are pros, they know what they're doing in WordPress and things get done! Thank you and I recommend them highly for anyone struggling with technical tasks.